Axial Flow Pump Series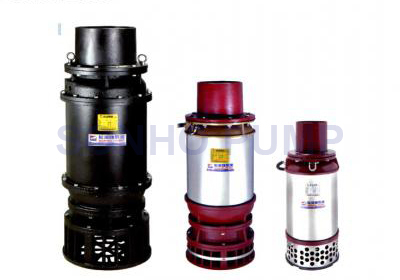 Axial Flow Pump Manufacturer for Axial Flow Submersible Pump and Axial Water Pump
Axial Flow Pump series Application:
Drainage of fish/shrimp farm, Agriculture irrigation, subway and large flow capacity in industries, flood control…etc.
Axial Flow Pump series (50HZ):
Output:0.5HP~30HP
Discharge: 4"~12" (inch)
Phase:1Ф 220V (under 1Hp)~3Ф
Capacity:0.7~14 (m3/min)
Head: 1.5~5 (m)
Axial Flow Pump series Features:
Axial flow pump design to meet large flow capacity, energy saving and easy installation.
Easy to operate, no need to use high voltage power supply and less vibration and noise caused.
Axial flow pump body and motor frame/casing are made of alloy copper and stainless steel to raise durability and wear-resistance.
Dual mechanical seals are adopted for higher wear-resistance in seawater, muddy liquid and wastewater.
Axial flow pump outer casing, motor frame and shaft are made of stainless steel. High precise screwing positions are designed to easy disassemble and maintenance.
Inner cable wires and cable base are upgraded by filling EPOXY to raise humidity-resistance.
Economical types (cast-iron made) are available for customized requirements.
The impeller of all BL- Axial flow pump Series is made with high quality Bronze.
Download:



BL & KL Series - 50Hz


BL & KL Series - 60Hz