Septic Tank Pump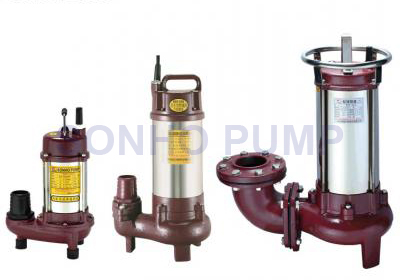 Submersible Septic Tank Pump Company Manufactures Septic Sump Pump
Septic tank pump application:
food factory wastewater discharge, animal husbandry sewage treatment. Basement water, restaurant waste water, all kinds of industrial wastewater and so on.
Septic tank pump series (50HZ):
Output:0.5HP~7.5HP
Discharge: 2"~4" (inch)
Phase:1Ф~3Ф
Capacity:0.2~1.3 (m3/min)
Head: 5~23 (m)
Septic tank pump FEATURES:
AC protector / thermal protector are built-in to prevent motor overheat and overload (except BAF-204A).
Impeller is calibrated in balance test and non-block designed can handle liquid has constant characteristics such as small quantity of impurities and solids in wastewater.
Motor Frame, shaft and screws are made of high strength stainless steel and dual mechanical seals are adopted to provide long service life.
Inner cable wires and cable base are upgraded by filling EPOXY to raise humidity-resistance.
Float switch is available for model under 2Hp.
SONHO is the leading septic tank pump to offer customers the best quality and service for our septic sump pump.
Download:



BAF Series - 50Hz


BAF Series - 60Hz