Stainless Steel Sewage Pump (2 pole)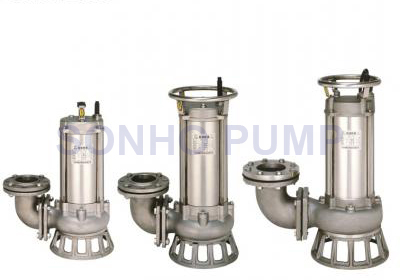 Stainless Steel Pump Manufacturer for Submersible Stainless Steel Sewage Pump
Stainless steel sewage pump application:
wastewater treatment of chemical industries, medical industries,hospital, laboratory and other comprehensive wastewater treatment...etc.
Stainless steel sewage pump series (50HZ):
Output:0.5kW~15HP
Discharge: 2"~4" (inch)
Phase:1Ф~3Ф
Capacity:0.1~2.3 (m3/min)
Head: 7~34 (m)
Stainless steel sewage pump FEATURES:
Stainless steel 304/316 materials are adopted for corrosive-resistance.
Chemical-resistant SIC mechanical seal and fluorine gasket are adopted to provide reliable sealing effects for chemical wastewater.
Precision casting method is used and the weight is 25% less than same grades of other pumps.
The base of cable is made out of integral plastic to upgrade humidity- resistance.
Italian techniques and professional design are adopted for water resistance.
The shaft is made of stainless steel and calibrated in dynamic balance for long time operation of bearing.
Float switch is available for model under 2Hp (except KF-205 3phase).
As a leading stainless steel pump manufacturer, SONHO has been involved in the industrial field of stainless steel sewage pump for more than 25 years.
Download:



KF Series - 50Hz


KF Series - 60Hz