Grinder Pump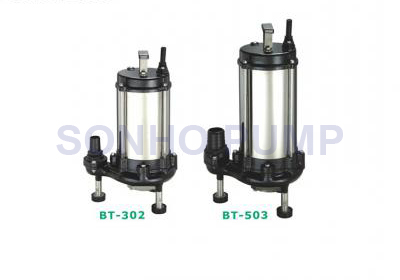 Water Pump Manufacturer Produces Submersible Grinder Pump and Grinder Sump Pump
Grinder pump application:
Pumping of residential wastewater from toilets, bathtubs, and washing machines; drainage of subway/tunnel, wastewater treatment of public laundry, textile industries and other industries.
Grinder pump series (50HZ):
Output:2HP~3HP
Discharge: 1 1/4"~2" (inch)
Phase:1Ф 220V / 3Ф
Capacity:0.1~0.4 (m3/min)
Head: 17~24 (m)
Grinder pump FEATURES:
Grinding and shredding effects are applied to raise operating efficiency and able to handle soft solids in suspension or organic wastes in water.
Portable, non-clogging design and high wear-resistance are applied to grinding ring and shredding ring.
Dependable mechanical seal and o-ring are adopted to maintain long time operation and high precision is applied to raise stability and efficiency of motors.
Inner cable wires and cable base are upgraded by filling EPOXY to raise humidity-resistance.
Motor frame, shaft, screws are made of stainless steel to make long service life.
Float switch is available (for model 2Hp).
With more than 25 years of grinder sump pump and grinder submersible pump experience, SONHO is the best water pump manufacturer supplying to all over the world.
Download:



BT Series - 50Hz


BT Series - 60Hz