Stainless Steel Dewatering Pump (portable)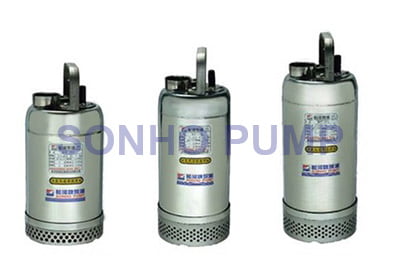 Portable Pump Manufacturer for Stainless Steel Dewatering Pump and Portable Dewatering Pump
Stainless steel dewatering pump application:
For circulation and water removal of fish farm,fountain pool, landscape pond, car wash, drainage of basement and construction site, wastewater treatment of chemical industries...etc.
Stainless steel dewatering pump (portable) 50HZ:
Output: 0.2HP~1.5HP
Discharge: 1" ~ 2" (inch)
Phase:1Ф~3Ф
Capacity: 0.05~0.35 (m3/min)
Head: 4~11 (m)
Stainless steel dewatering pump Features:
Corrosive-resistant stainless steel materials are adopted, attractive appearance, no second pollution caused.
Chemical-resistant SIC mechanical seal and fluorine gasket are adopted to provide reliable sealing effects for chemical wastewater.
Light weight, pump casing is made of stainless steel and formed by stamping.
SONHO is a portable pump manufacturer founded in 1995. We have accumulated rich experiences in stainless steel dewatering pump and portable dewatering pump.
Download:



KOT Series - 50Hz


KOT Series - 60Hz