Dewatering Pump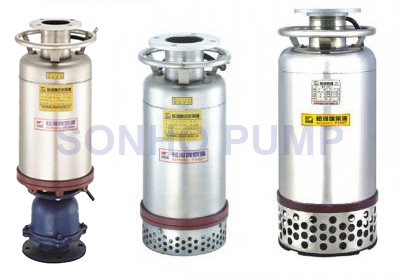 Dewatering Pump Manufacturer for Submersible Dewatering Pump and Dewatering Sump Pump
Dewatering Pump Application:
Lifting of well water and underground water (limited for 3Hp and 5Hp pumps);
Aqua farm, Agriculture Irrigation, Drainage of subway…etc.
Dewatering Pumps series (50HZ / 1500 & 3000 RPM):
Output: 1.5HP~10HP
Discharge: 2"~ 6" (inch)
Phase:1Ф220V / 3Ф
Capacity:0.2~3.0 (m3/min)
Head: 5~34 (m)
Dewatering pumps FEATURES:
1. Two different speed motors are available; two-pole (BH+S series) and four-pole (BH-4P series).
2. Two features (Water delivery and extraction) in one design can be applied as a landed water pump by removing strainer and connecting a check valve.
3. Water-cooling jacket design prevents overheat after long time operation, and impeller is designed regards to slicing concept for high water volume and high head.
4. SIC mechanical seal is adopted for pump's power 3Hp and above.
5. Check valve is available (option, limited for 3Hp and 5Hp pump).
SONHO is a professional submersible dewatering pump manufacturer built up by a group of expert engineers and management of dewatering sump pump.
Download:



BH+S Series-50HZ


BH-4P-Series-50HZ


BH+S(2P)-60HZ


BH-4P-60HZ