Submersible Sewage Pump (2 pole)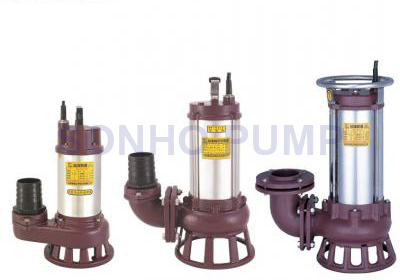 Submersible Sewage Pump Supplier Produces Submerged Sewage Pump
Application:
Basement wastewater discharge、septic tank pumping、waste water discharge、industrial water treatment、animal husbandry wastewater discharge.
Submersible Sewage pump series (50HZ):
Output:1HP~15HP
Discharge: 2"~4" (inch)
Phase:1Ф~3Ф
Capacity:0.2~2.5 (m3/min)
Head: 9~33 (m)
Submersible Sewage pump FEATURES:
Dependable laminated sheet of Si steel is adopted to sewage pump; shaft and rotor are machining precisely to raise stability and efficiency of sewage pump. Motor frame, shaft, screws are made of stainless steel to provide long service life and attractive appearance.
Sewage pump's Impeller is designed to special water flow, muddy liquid and other various wastewater can be efficiently drained.
The product range is up to 15Hp,dual SIC mechanical seals is built in (1.5 Hp and above).
Inner cable wires and cable base are upgraded by filling EPOXY to raise humidity-resistance.
Sewage pump's design to easily disassemble motor and pump housing for maintenance.
Float switch is available for model under 2Hp.
With more than 25 years of submerged sewage pump experience, SONHO is the best submersible sewage pump supplier supplying to all over the world.
Download:



EF & BF Series - 50Hz


EF & BF Series - 60Hz